Subject: Instantly kicked out from the community + rangebanned
Evidence:
Advertising another Server:

Insulting Players: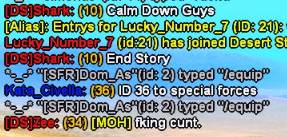 Alias shows an attempt to of a Bot Attack on the Server:
120.29.96.12 wahhahahah,,[BoT]s0nicTz,,[BoT]s0nicTz_68843,,[BoT]s0nicTz_469,,[BoT]s0nicTz_5122,,ignacio123
Fucking idiot get your ass out of this community if I see your ugly face once again here I'll DDOS the fuck out of you so better get out and rape your mom fucking little kid
_________________
° Main Owner + Creator of Desert Storm
° Any Questions? Please ask.
° [DS] Online
° Admin Level 10
Credits to [DS]S.W.A.T4 for this signature !
PC Specs:
Processor:
AMD FX-8350 8x4 GhZ Octa-Core
ATI Radeon R9 280x 3GB GDDR5 RAM
16GB 1333MhZ DDR3 RAM
GIGABYTE Motherboard UEFI BIOS